Don Wessel Honda celebrates its 50th Year in 2016! To celebrate we want our customers to know what it means to us that they have supported us over the last 50 years and also give a brief history of how Don Wessel Honda has grown since Don Wessel, the original owner, moved to Springfield.

Don Wessel arrived in Springfield in 1966 to take over an Oldsmobile dealership. In 1973, when a Honda representative came calling, Oldsmobile's lineup consisted mostly of large, V8-powered cars. Don had the foresight to see that he needed an alternative model line that provided greater fuel
economy,
and agreed to sign on as a Honda automobile dealer. At that time, Honda was known more for its motorcycles and less as an automobile manufacturer. 1973 also brought the first OPEC (Organization of Petroleum Export Countries) oil embargo along with the introduction of the all-new Civic, so Don's timing couldn't have been better.

The original dealership was at 1407 St. Louis St and was not very big. The lot was gravel and the showroom was not
air conditioned
. Excess inventory had to be stored in a separate lot on Fremont Street. Around 30 employees filled the staff roster at that time and when Honda was added in 1973, it really was a tight squeeze. Our dealership moved to the current facility in 1979, added a dedicated Honda showroom and service facility in 1987, and converted to a stand-alone Honda dealership in 2006. We now have 105 employees.

Our rich history has grown tremendously over the last 50 years and that is, in part, to Honda's excellent product. But the core of our great reputation and the reason we are celebrating 50 years is our staff. People truly do make a difference, and they are our greatest asset. We take great care of our people, and they take great care of our customers.

Our customer service is one of the most defining factors of Don Wessel Honda. Don Wessel realized that providing outstanding customer service was the best way to earn a great reputation and ensure repeat business, and that is his legacy. We have trademarked the term "Legendary Service" both as a tribute to his legacy and as a guidepost as to how we conduct our business every day.

Jon, Don's son and current owner of Don Wessel Honda, trademarked that phrase because it captures, in a nutshell, what our last 50 years have been about. Don Wessel was a huge proponent of treating both customers and employees well from day one back in 1966. "Legendary Service" means going over and above the call of duty to make our customers happy. Our employees are empowered to do just that and are expected to do that. We believe that customer service as a whole has declined in recent years, and we are determined to not let that happen at our dealership.

You can ask almost anyone about Don Wessel Honda, and their response will be centered on one thing, our "great service." This applies mostly to how we treat our
customers,
but also applies to community service as well.

Don Wessel was very active in the community and supported more organizations and served on more boards than we could even count. He was even named Springfieldian of the Year in 1987. Jon continues to support some of the organizations that Don was involved in and has even added some of his own choosing. We here at Don Wessel Honda continue to support our community day in and day out.

See, at Don Wessel Honda, it's not just about selling cars. It's about making sure our customers get the car they want, at the price they want, from a person that they can trust. And once we do get you in the car of your dreams, we want to make sure that you can always come back to the dealership for any questions, concerns, or service and we will take care of your vehicle as if you are family,
because
in our minds, you are family.

We want to thank everyone within the Don Wessel Honda community for making the last 50 years truly exceptional and we cannot wait for the next 50 years to come!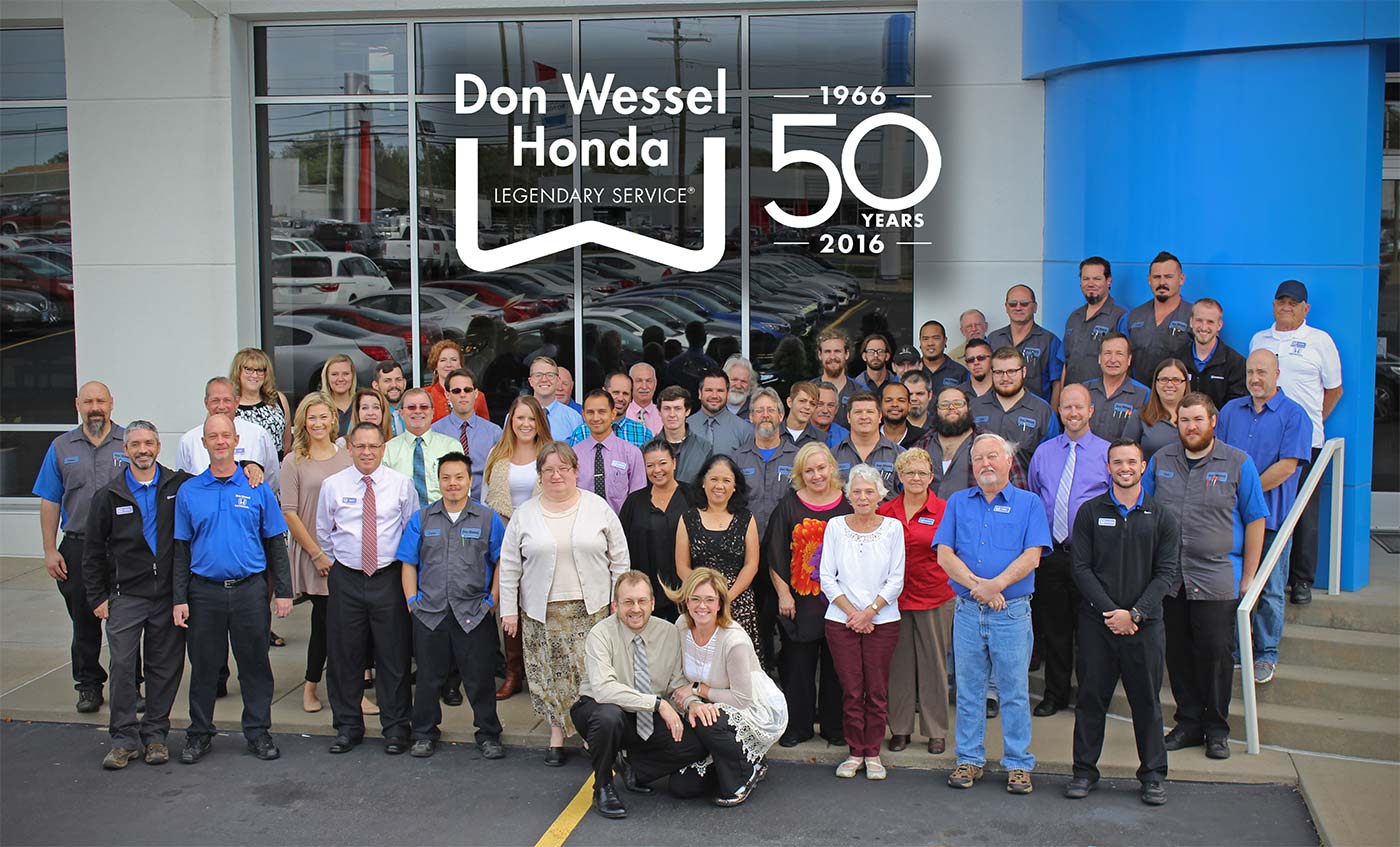 3520 S Campbell St
Springfield
MO
65807
Hours
Monday

8:00am - 7:00pm

Tuesday

8:00am - 7:00pm

Wednesday

8:00am - 7:00pm

Thursday

8:00am - 7:00pm

Friday

8:00am - 7:00pm

Saturday

9:00am - 6:00pm

Sunday

Closed